ARCHICAD START Edition

ARCHICAD STAR(T) Edition 2017 is a full-fledged BIM solution with critical features most smaller practices need.
Serving as a base for the latest ARCHICAD STAR(T) Edition, ARCHICAD 20's robust, well-tested engine satisfies the needs of a smaller practice. ARCHICAD STAR(T) EDITION 2017 provides the full power of ARCHICAD 20's BIM-based streamlined documentation workflow, allowing the model to stay live until the very end of the project: it helps keep architects in the state of the creative design flow with as little disruption as possible.
Limitations of ARCHICAD STAR(T) Edition 2017 compared to ARCHICAD 20 include
Collaboration limitations: No Teamwork / BIM Server / Hotlinked Modules / XRefs / PMK/EDU file format support / Publisher / STL Export / IFC Publishing
Modeling limitations: No 'Linking Element Heights to Stories' function / Renovation functionality / Curtain Wall
Documentation/Productivity limitations: No Point Cloud Display / No Revision Management / No Renovation / Integrated Energy Evaluation / Conceptual Design with Morph Scheduling / Layered PDF Publishing
Visualization limitations: No CineRender Rendering / LightWorks Rendering / Sketch Rendering
Project Organization limitation: No License Borrowing / NET License
Performance limitation: No Multithreading on Unlimited Cores
To learn more about the new features and compatibility details of ARCHICAD STAR(T) Edition 2017, download the Version Comparison Chart.
To take advantage of the entire range of ARCHICAD features and benefits, you can upgrade at any time to the current, full version of ARCHICAD and continue editing your previous projects with it.
ARCHICAD STAR(T) Edition 2017 New Features
Fresh Look At BIM

ARCHICAD STAR(T) Edition 2017 offers a fresh and clean user interface maximizing the available working area with crisp and clean new icons that look sharp on any screen resolution. The improved tab-based navigation means easy and fast navigation among different views of the project.
ARCHICAD STAR(T) EDITION 2017 delivers a unified, up-to-date and professional user interface.
ARCHICAD STAR(T) EDITION 2017 has a cleaner and larger workspace by displaying the most widely used functions while restructuring all the rarely used commands and options.
By eliminating superfluous graphical elements of the user interface it is not only free from inessential visual noise, but also provides a larger screen real estate for your design and editing work.
Graphical Favorites

Brand new Favorites speed up everyday design development work by providing visual feedback on saved element settings with automatically generated, colored 2D or 3D thumbnail previews - available for every Tool.
The new Favorites will not only help BIM managers in setting up and enforcing office project templates but will also speed up everyday design development work.
Favorites may be organized in a custom, hierarchical folder structure using simple drag and drop for faster access; multi-selection of favorite entries is also supported.
Favorites, selected either by folder or individually, can be imported and exported in various formats to help maintain office standards between projects.
BIM Visualization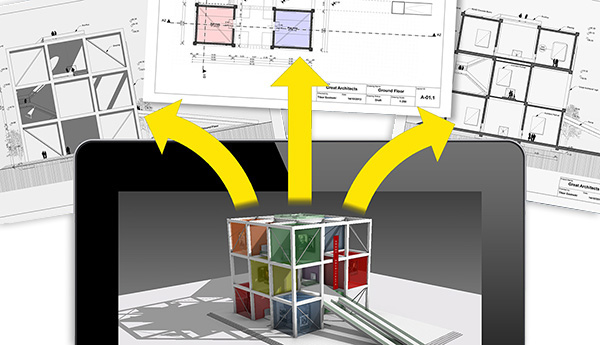 ARCHICAD STAR(T) EDITION 2017 takes project visualization to the next level by enabling the creation of BIMx Hyper-models and two-point perspective views.
BIMx Hyper-models can be exported, providing integrated 2D and 3D building project navigation and interactive BIM project presentation on mobile devices.
In 3D perspective view, users can switch to a two-point perspective in any camera position, maintaining the original position and viewing angle. As a result, all 3D vertical edges become vertical in perspective projection.
BIM Performance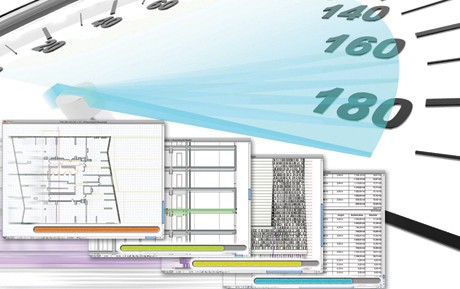 STAR(T) Edition 2017 implements a series of performance enhancements in various fields to enable smoother workflow and increase general responsiveness.
STAR(T) Edition 2017 can handle even very complex project library structures in a snap. In addition Embedded Libraries are now extracted into a virtual file system, eliminating library inconsistencies, which may be caused by complex library structures.
Background processing is now used to check the drawing status of external drawings (PDFs, DWGs, images). This not only provides faster feedback about the status of external drawings, but also dramatically reduces response times.
ARCHICAD® 20 and STAR(T)Edition
New Features Comparison Chart

Modeling
Complex, Multi-story Elements
+
+
+
+
+
Floor-plan Display Options for Construction Elements
+
+
+
+
+
Multi-Plane Roof
+
+
+
+
+
Priority Based Connections
+
+
+
+
+
Profiled, Slanted Walls, Columns, Beams via the Profile Manager
+
+
+
+
+
Doors/Windows Fit to Slanted and Complex Wall Surfaces
+
+
+
+
+
Curved Profiled Walls and Complex Elements
+
+
+
+
+
Shell Tool
+
+
+
+
+
Morph Tool
+
+
+
+
+
Core-Based Reference Line for Component Structures
+
+
+
+
Automatic Model-Based Junctions
+
+
+
+
Air Gaps in Composite Structures: Correct Display & Handling
+
+
+
+
Building Materials: Expanded Properties & Tags
+
+
+
+
Edit Multiple Elements Simultaneously w/ Visual Feedback
+
+
+
+
Composites Without Cores
+
+
+
+
NURBS Definition in GDL
+
+
Sketchup v2016 Support
+
+
3DM (Rhino File Support
+
Link Element Heights to Stories
+
Curtain Wall Tool
+
Visualization / 3D Exploration
Internal Rendering Engine
+
+
+
+
+
Virtual Tracing - Reference Layer among all Views, Layouts
+
+
+
+
+
3D Zones Geometry Fit to Complex Elements
+
+
+
+
+
Partial Structure Display
+
+
+
+
+
3D Feedback with Working Plane, 3D Guidelines
+
+
+
+
+
3D Editing Plane
+
+
+
+
+
Snap to Surface in 3D Window; Move & Elevate in One Step
+
+
+
+
+
Real-Time Editable 3D Cutting Planes
+
+
+
+
+
Sketch Rendering
+
CineRender Engine R16
+
Documentation
3D Document: Dimensioned and Annotaded 3D Views
+
+
+
+
+
Interactive, Annotated Door/Window Schedules
+
+
+
+
+
Scale Dependant Detailing
+
+
+
+
+
Interactive Schedule Data Export to Excel
+
+
+
+
+
External Drawings (PDF/DWG/Image from/to SE)
+
+
+
+
+
Import Site Survey Geometry as Morphs
+
+
+
+
+
Floor-plan Based 3D Document
+
+
+
+
+
Interior Elevation Improvements
+
+
+
+
BIMx Hyper-model Publishing
+
+
Element Previews in Schedules
+
+
Revision Management
+
Publish Layers to PDF from Layout
+
Publish Element Information for BIMx hyper-models
+
Renovation Feature, Element-level Statusing
+
Workflow – Productivity – Project Management - Performance
Integrated Layouting, Layout Book
+
+
+
+
+
Markup Tools
+
+
+
+
+
Supersafe Autosave
+
+
+
+
+
Single, Unified Undo Queue for the Entire Project
+
+
+
+
+
Easy Creation of Custom Library Parts with Modifiable Attributes
+
+
+
+
+
Graphical Project North Definition
+
+
+
+
+
Building Materials, Smarter Attribute Management
+
+
+
+
+
Conceptual Design with Morph Scheduling
+
+
+
+
+
Duplicate Elements in Section and Elevation View
+
+
+
+
+
Background Processing Support for Faster Performance
+
+
+
+
+
Flexible Editing of Placed PDF Drawings
+
+
+
+
+
PDF-Based Data Exchange – Optimized Export, with Layers
+
+
+
+
+
Easier Attribute Management/Handling
+
+
+
+
Snap Points and Guide Lines
+
+
+
Tab Bar on Windows and Mac
+
+
+
Mac Interface: Unified Window Mode with Docking Palettes
+
+
+
List Skin/Component Area in Interactive Schedule
+
+
+
Schedule of Finishes
+
+
+
Appearance and Speed Improvements for Dimensions and Labels
+
+
+
MEP Improvements in Collision Detection, Classification
+
+
+
Predictive Background Processing for Nearly Instant Model Views
+
+
+
Optimized OpenGL Engine for Smoother, Faster Navigation
+
+
+
Surface Painter
+
+
+
Multithreading Available on Unlimited Number of Cores
+
Project Publisher
+
(Multi-story) Hotlinked Modules
+
License Borrowing, NET License
+
Integrated Building Energy Evaluation
+
Flat User Interface
+
+
Vectorial Icons
+
+
Graphical Favorites
+
+
Retina Display Fully Supported on Mac
+
+
User-Defined Element Properties
+
+
Mass Import of Element Data
+
Communication, I/O; Interoperability - PLN, PLA, TPL, MOD File Import
AutoCAD DWG/DXF Import/Export
+
+
+
+
+
Merge/Save as... PDF Command
+
+
+
+
+
Convert Surveyors Data into ARCHICAD Mesh
+
+
+
+
+
Integrated IFC Import/Export Engine, Property Management
+
+
+
+
+
Building Element Classification for MEP and Structural Engineering
+
+
+
+
+
Data Exchange with Structural Software
+
+
+
+
+
Save Elements to Common DWG Blocks
+
+
+
+
+
Google Earth and SketchUp Connection
+
+
+
+
+
IFC Support for Multiple Standards
+
+
+
+
+
PDF/A Export
+
+
+
+
+
Enhanced Mark-Up; 3D Screenshots
+
+
+
+
BIM Collaboration Format (BCF)-Based Data Exchange
+
+
+
+
Scheme-Driven IFC Data Management and Export
+
+
+
+
ARCHICAD BIM Parameters & Quantity Mappings to IFC Data
+
+
+
+
Certified Import and Export of IFC 2x3 Coordination View v2.0
+
+
+
+
Complex and Composite Geometry Export/Import Enhancements
+
+
+
+
Exact IFC Geometry Import; Attribute Handling/Overrides
+
+
+
ID Management of IFC Spatial Elements
+
+
+
Better Import of MEP Models w/ Automatic Detection/Conversion
+
+
+
Streamlined IFC data mapping of Library Part Parameters
+
+
+
IFC Publishing
+
Export Multiple Layouts into Single DWG
+
Save Exploded DWG Drawings to a Single Layer
+
DXF/DWG External Reference Support (Xref)
+
Point Cloud Display
+
EDU / Trial File Format Support
+
PMK File Format Support
+
Export Model to STL Format
+
Criteria-based Graphic Overrides for Design Communications
+
IFC4 Import-Export
+
+
Survey Point Definition
+
+
Export to gbXML
+
Export to PHPP
+
ARCHICAD 20 File Open|Save
+|+
-|-
-|-
-|-
-|-
EDU File Open|Save
+|-
-|-
-|-
-|-
-|-
SE 2014 File Open|Save
+|-
+|-
+|-
+|-
+|+
SE 2015 File Open|Save
+|-
+|-
+|-
+|+
-|-
SE 2016 File Open|Save
+|-
+|-
+|+
-|-
-|-
SE 2017 File Open|Save
+|-
+|+
-|-
-|-
-|-
Library
Model View Options for Library Parts
+
+
+
+
+
Embed Only Necessary Library Objects
+
+
+
+
+
Library Migration, Library Management
+
+
+
+
+
Keyword Based Search Function Finds Library Parts
+
+
+
+
+
Double-Quick Library Loading Times, Faster 3D Handling
+
+
+
+
+
Simplified Door/Window UI
+
+
+
New and Improved Label Types
+
+
+
No Character Number Limit in Lib Part Names
+
+
Embedded Libraries Extracted into Virtual File System
+
+
OpenGL Previews in Object Settings
+
+
Teamwork & BIM Server
Teamwork Extended to Documentation Process - Layouts
+
BIM Server - Model Based Team Collaboration
+
Reservation Methods
+
Instant Team Communication
+
Delta-Server for Fast and Safe Data Exchange in Teamwork
+
Control Over Client-Server Technology
+
Portability and Remote Access
+
BIM Server Optimized: Autosave Backup, Faster Performance
+
BIMcloud Control Icon: Single Entry Point for Server Management
+
Network Diagnostic Tool for all BIMcloud/BIM Server components
+
Easy Management of Teamwork Libraries
+
Save