Download your ARCHICAD 21 Trial here
Get started with an ARCHICAD Trial in 2 simple steps:
1. Download and Install
Use the links below to instantly download the ARCHICAD 21 Trial
Tip: Click 'Save' if prompted
---
2. Launch ARCHICAD in Demo Mode
Launch in Demo Mode at any time, as long as you don't need to Save, Export, or Teamwork functionality.
If you want access to these functions, you'll need to obtain a Trial License Serial Number - proceed to Step 3 below for instructions.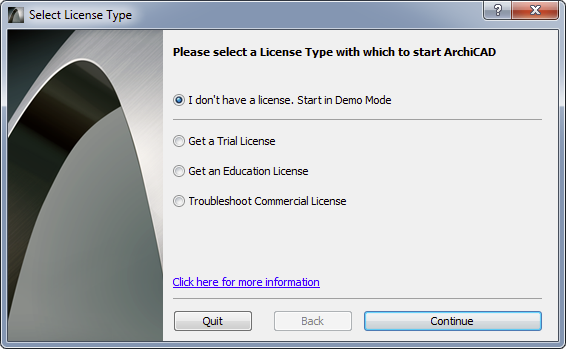 ---
3. Enable full functionality with a Trial License Serial Number
To enable Save, Export, or Teamwork functionalities you'll need to get a Trial License Serial Number. This will provide you with a full working version of ARCHICAD for 30 days.
To do this, start ARCHICAD and choose the 'Get a Trial License' option.
Then click the link to 'Continue on the registration web page' to get your Serial Number.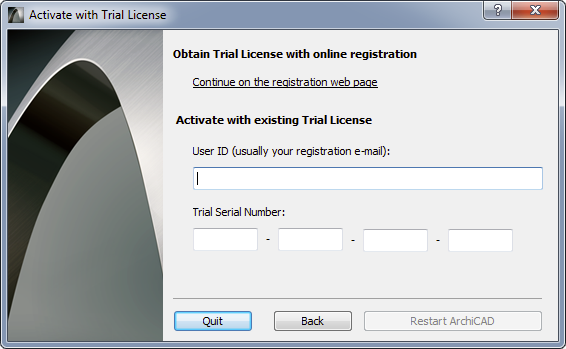 Getting to know ARCHICAD
Discover ARCHICAD's features with the Help Center
Right click on any interface element to access the context-sensitive online reference guide.
---
Watch Tutorials and Trainings on YouTube
Visit the ARCHICAD YouTube channel or search for tutorials created by our user community.
---
Contact us
For more information including pricing, please contact Debbie at our Auckland Office via email.
Save