NZIA GRAPHISOFT Student Awards
26th November 2014: This week Campbell Yule (Managing Director of Cadimage Group) attended the NZIA Graphisoft Student Awards to personally congratulate and present prizes to the events' twelve finalists.
This is the seventh year that Graphisoft have sponsored the awards, which showcase the work of students from the country's three schools of architecture: University of Auckland, UNITEC and Victoria University of Wellington.
Held on the 26th of November 2014 at Auckland's Heritage Hotel, Campbell explained that the awards were an excellent way to experience new and emerging trends in architecture, and commented that "as always, the quality of work was exceptional".
This year, Tom Dobinson from Victoria University won the Awards with his project titled 'Wharf Dwellers - An ExposéOf Lyttelton'. Tom's design proposes opening Lyttelton's privatised wharf to the public; and also explored the town's 'underbelly'. Judges said his project was a "very impressive product of a highly iterative process. Clearly and legibly presented, and well put together, it reveals its author's talent for analysis, skill in assembly, and deep interest in the social and architectural condition of his hometown".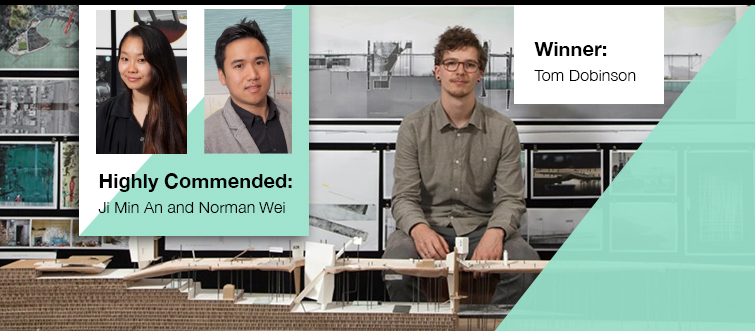 Highly commended were Ji Min An from Unitec with 'Korea Korea' and Norman Wei from Auckland University with 'SUPER-PACIFIC-CITY: The Saga Of Lomipeau'.
Images of the finalists' work can be seen on Campbell's Blog.
We'd like to congratulate all twelve of the NZIA Student Award finalists:
Auckland University:
Raimana Jones
Natalee Tan
Zee Shake Lee
Norman Wei (Highly Commended)
UNITEC Department of Architecture finalists:
Flora Kwan
Ji Min An (Highly Commended)
Mayank Thammalla
Shane Tregidga
Victoria University of Wellington School of Architecture
Benjamin Allnatt
Hamish Beattie
Tom Dobinson (Winner)
Carinya Feaunati