GDL Handbook 2
(Second edition)
A comprehensive guide to creating powerful ARCHICAD objects by Andrew Watson.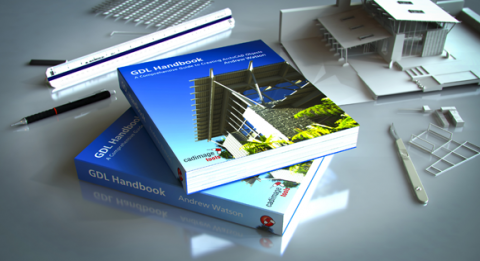 The Building Information Model (BIM) is most powerful with the input of accurate and relevant information.  ARCHICAD users can apply the power of GDL to enhance BIM.  Whether your goal is to foster the productivity of your own Architectural practice, create specific objects for clients, or to cultivate products that benefit the wider ARCHICAD community, this practical approach to GDL scripting and problem solving will help.

The GDL handbook explains how to take the GDL syntax (as presented in Graphisoft's GDL Reference Manual) and use it effectively.  It offers clear guidelines for both the novice and experienced user that will accelerate learning and help to avoid common pitfalls.  Use this resource to by-pass the pain of trial and error and to enhance your GDL programming skills.

A selection of helpful resources is presented.  Learn about macros, variables, operators, expressions, strings, the stack, loops, sub-routines, 2D & 3D elements, groups and solid element operations, as well as using text, graphics and the user interface.  Discover important results and algorithms from a variety of disciplines including curve approximation, linear algebra, complex transformations and polygon operations.  Realize strategies for successful development, including efficient scripting styles, optimization techniques, quality control, planning and risk management.
With the release of the 2nd Edition we are pleased to be able to also offer an electronic (PDF) version of the book.
The GDL Handbook is available to purchase by contacting us via email or phone 0800 900 889.